by Ganesh Sahathevan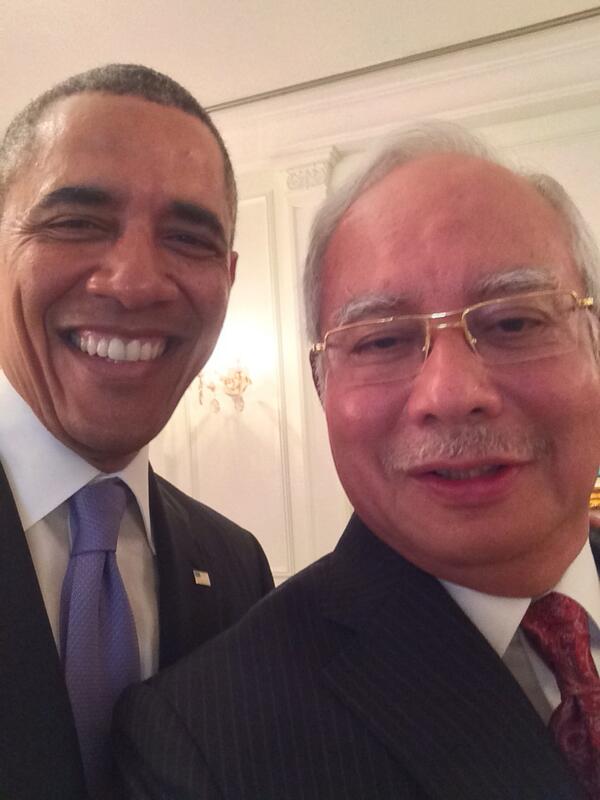 My selfie with President Obama !
As reported by the Malay Mail:


Datuk Seri Najib Razak today said a 2014 bill worth around half a million ringgit at luxury brand Chanel's store in Honolulu, Hawaii was during his trip to play golf with then US president Barack Obama.


Najib took to his Facebook account again to explain himself over big expenses allegedly linked to him, just a day or two after his Monday night claim that the 2014 bill of over RM3.3 million in one day using his credit cards was for an unnamed foreign "royalty" at a Swiss luxury jeweller's store.


Najib's Facebook post comes after a witness in his ongoing corruption trial confirmed on Monday that Najib's two credit cards at AmBank were used for 10 separate transactions totalling €763,500 or over RM3.3 million at Swiss jeweller De Grisogono's store in Italy in August 2014, as well as for US$130,625 on December 22, 2014 at Chanel in Honolulu (equivalent to RM466,330.11 at that time) and RM127,017.46 on January 4, 2015 at Shangri-la Hotel in Bangkok.

The WSJ's 2016 report which Najib referred to had also mentioned a €750,000 purchase in August 2014 at an Italian branch of De Grisogono using Najib's credit card.

In the same Facebook post today, Najib reiterated that he had in his Facebook post on Monday already explained the RM3.3m purchase, but this time offered a further clue on the identity of the alleged "royalty" from an unnamed country that received the purported gift.

"The queen of that country's royalty wrote to my wife as the jewellery was for her and her entourage.


"The name of the recipient and which country will be disclosed in court soon," he said without offering further details.

It is unclear when the promised unveiling of the purported receiver of the gift worth RM3.3 million would be disclosed in court, or whether the upcoming prosecution witnesses in Najib's trial would be testifying or questioned on the matter.

The above is to be read with the post below from 2017.Obviously all parties need to provide further explanation.
See also