by Ganesh Sahathevan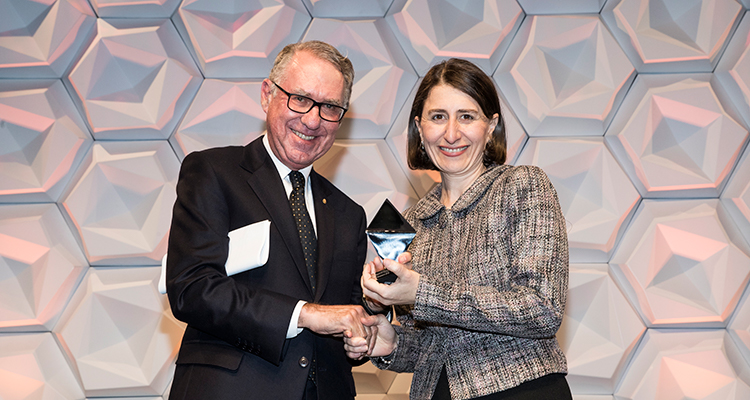 ANZ Chairman David Gonski and NSW Premier Gladys Berejiklina

As reported yesterday

US Securities Commission Bans Tim Leissner And Names Najib Razak For Receiving Bribes

The headline is no exaggeration for the Summary Order includes this paragraph:

Leissner and others instead planned and executed a scheme to misappropriate more than $2.7 billion and distribute the money as bribes and kickbacks to government officials in Malaysia and Abu Dhabi, including but not limited to Najib Razak.

While the US court order has only just been handed down the matter of Najob Razak's and the theft from the Malaysian sovereign wealth fund has been in the news since 2015; quite apart from media reports the US Department of Justice has been seizing assets related to the theft since mid 2015.
Najib Razak's private banking accounts at Malaysia's AMBank, which has been under the effective control of Melbourne's ANZ since 2007, was identified as "Ground Zero" of the theft by the DOJ,and the matter publicised widely by among others the Wall Street Journal.
December 13, 2018
ANZ appointed banking provider for NSW Government
ANZ today confirmed it has been appointed as one of two providers of core-banking services for the New South Wales Government.
Under the agreement, ANZ will deliver services across cash management, payments, merchant acquiring and cross-border banking requirements from 1 April, 2019. These services will be divided between ANZ and Westpac, the incumbent bank.
ANZ Group Executive Institutional, Mark Whelan, said: "We're very proud to be partnering with the NSW government as it looks to transform the way frontline services are delivered to its citizens. This partnership goes beyond a traditional banking relationship and reflects our strong alignment on both innovation and community purpose, as well as our commitment to delivering seamless payment experiences to the people and businesses of NSW."
ANZ has also been named as an innovation partner to the NSW Government, a partnership which will leverage the bank's market-leading capability and experience in data analytics, agile ways of working, human-centred design, digital and payments.
ANZ Group Executive Digital Banking, Maile Carnegie, said: "Like banks, governments are facing changing expectations from their citizens and need to respond in a way that's intuitive, flexible and innovative. The NSW Government is progressive in its thinking and we're confident this partnership will draw upon our experience and expertise in digital banking and transformations to help drive that vision for the future."
The contract is for three years with options to extend.