by Ganesh Sahathevan
As reported on this blog yesterday:
Zhu Minshen's Law School Dean was a member of Law Council Australia's Legal Education Committee while "specially engaged by China 's "1000 Experts Project"
The Communist Party China's Central Organisation Department (COD) oversees the Thousand Talent ,or Thousand Expert Project which recruited Zhu Minshen's Law School Dean, Eugene Clark.
Among the other China Government agencies involved in the 1000 Expert project are: -Ministry of Human Resources & Social Security -Central United Front Work Department -Ministry of Public Security -The Overseas Chinese Affairs Office - Central Committee of the Communist Youth League
The entry in any form by any one of the agencies named above,let alone collectively via a single vehicle into any Australian institution, and especially legal institutions, ought to have alerted ASIO,
who ought to have then advised the Minister in charge,
who in 2015 was the Attorney General George Brandis,
of the threat.
If ASIO had been alert to the threat it is likely that it would have similarly advised the NSW Legal Profession Admission Board and the Law Council Of Australia. Alternatively it would have been Brandis' duty to do so, assuming that he had been properly advised.
Had they been advised, did they ignore the threat, and if so why? It now falls to Education Minister Dan Tehan to use his new powers to obtain answers; he may have to work with Peter Dutton and Home Affairs to do so, and the public have aright to be informed of his findings.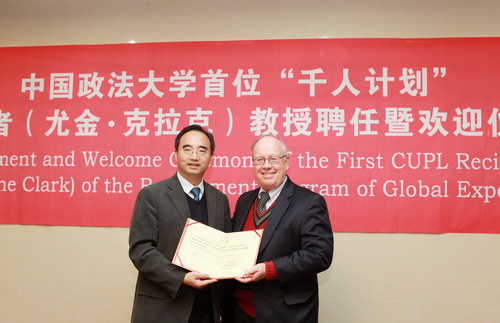 Eugene Clark receiving his 1000 Experts letter
of appointment
Thursday, November 14, 2019
New foreign interference laws may require Minister Tehan to apply his "blunt instruments" to Zhu Minshen's Top Group; investigation of regulators including the NSW LPAB must follow
by Ganesh Sahathevan
The AFR has reported that universities will be forced to take action over China ties:
The education minister (Dan Tehan) told universities he has ways of compelling them to take
action on foreign interference
, reinforcing comments he made earlier this week that he had "blunt instruments" to use if they didn't .
These include acting against a university through the Tertiary Education Quality and Standards Agency, which is the industry regulator, or writing new rules into individual


contracts each university has with government for funding.


Zhu Minshen's Top Group has a history of interference in local politics which is a matter of public record. As reported previously on this blog Zhu Minshen undermined an Australian Federal Police directive.


In his 2018 book "Silent Invasion" Professor Clive Hamilton reports that Top Education Group's Zhu Minshen organised students , including students from his Top Education Institute to protest against Tibetans at the 2008 rally , which counted towards the Top students' assessment. Zhu's Top Institution is "perhaps the only accredited degree program in Australia that counts agitating for a foreign power towards its qualifications.

He also describes how Zhu Minshen and his Top Education Institute(and other Chinese entities) interfere in Australian politics.The section on Zhu and Top begins :
"Few people noticed, but the fishy smell around Zhu Minshen's Top Education Institute was noticeable a few years before it began wafting from the front pages of the newspaper (such as the AFR in 2013)"
The donation scandal that Zhu was involved in has been complicated by the fact that Zhu made a series of donations to the NSW Liberals which coincided with the grant of his license to issue LLBs.
While these rules have only just been introduced, and while it is unlikely that the laws will apply retrospectively, the issue of Zhu Minshen's license to issue LLB's is an ongoing one that has been enabled by the
NSW Legal Profession Board and its chairman the NSW Chief Justice Thomas Bathurst.
The LPAB and the Chief Justice have refused to provide answers.
Compounding the issue is a recent incident where the NSW LAPB and its chairman refused to investigate complaints from this writer against another institution under their purview, The College of Law,and instead attempted
to discredit this writer's work on the 1MDB scandal.
They relied on special powers granted law school principals which give them, and Zhu, the ability to determine arbitrarily who may practise law in NSW, and in Australia.
The history of secrecy and failure of regulation by the LPAB will require Tehan to apply his "blunt instruments" to both Top Group and its regulator, the LPAB.
Minister Tehan may not have contemplated an investigation into the NSW LPAB ,its chairman Tom Bathurst and the AG NSW Mark Speakman when his officers and he formulated the foreign interference laws. However, the conduct of these regulatory bodies makes the investigation necessary.
END
See Also