by Ganesh Sahathevan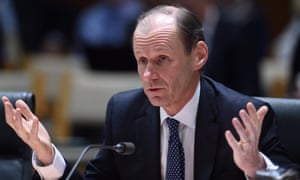 they did so with documents prepared to enable
The revelations of Norhayati Yusof
suggest that the AMBank and AMMB boards may have based their 1MDB related statements, reflected in board minutes and published via mass media and stock exchange announcements, on documents drafted to enable them to deny knowledge of the 1MDB transactions.
Ms Yusof's revelations suggest that AMBank and ANZ are pursuing a strategy of plausible deniability ie that the transactions involved were so complex that they could not possibly have known where the money paid into Najib Razk and SRC's AMBank accounts came from or went to.
The strategy seems to have been based on documents prepared by management to reflect that belief ,regardless of the facts.
This plea of ignorance is being made together with other statements that accuse the journalists concerned in making the 1MDB theft public of ,in essence, having made up the whole story about the 1MDB theft. These statements are being made despite the DOJ and other government agency findings, and t
he recent revelations in the criminal trials of Najib Razak.
Again, it is now for the MACC and Bank Negara to do their part; this far it is the DOJ and other foreign agencies that are doing their work for them.
END
SEE ALSO
uesday, October 8, 2019
"AmBank purposely hid facts on bond subscribers from 1MDB - Shahrol Azral Ibrahim Halmi, former 1MDB CEO, in court under cross examination about the ANZ managed AMBank
by Ganesh Sahathevan
------------------
-
◾
"AmBank purposely hid facts on bond subscribers from 1MDB - Shahrol
10.30am - AmBank Group purposely hid facts from 1MDB on Aktis Capital and Country Group being secondary subscribers of 1MDB bonds in 2009, a witness tells the court.
Shahrol Azral Ibrahim Halmi, who is a former 1MDB CEO, testifies this under cross-examination by lead defence counsel Muhammad Shafee Abdullah.
He, however, declines to speculate on why the bank might have wanted to do so.
Shafee: So you are going on record that you were never informed by Ambank that Aktis and Country Group was involved as secondary subscribers?
Shahrol: Yes.
The witness then agrees to a suggestion by Shafee that given the hindsight of the situation now, AmBank had purposely hidden the facts.
Earlier, Shahrol testifies that 1MDB board of directors had in Oct 2009 summoned AmBank to explain why 1MDB only received some RM4.3 billion for its RM5b Islamic medium-term notes (IMTN), instead of its face value.
He says that presentation by AmBank to the board did not reveal about Aktis and Country Group being 1MDB's secondary board subscribers.
❗
According to Shahrol, they were only told that 1MDB bonds were subscribed by the EPF, Socso, and insurance companies.
The witness adds that the most vocal board member who queried about the IMTN value was 1MDB chairperson then, Bakke Salleh (above).
Jho Low was sole link between 1MDB, ex-CEO and Najib, court hears
10.15 - Jho Low was the sole link between then 1MDB CEO Shahrol Azral Ibrahim Halmi and its sole shareholder Najib Abdul Razak, the High Court hears.
Shahrol, the 9th witness, says this during cross-examination by lead defence counsel Muhammad Shafee Abdullah.
Shafee is asking Shahrol about wanted businessperson Jho Low's role in 1MDB meetings.
"He (Low) was the sole link between 1MDB, me and sole shareholder Najib," Shahrol testifies.
When Shafee asks who was the sole shareholder of 1MDB in 2009, he replies it was Minister of Finance Incorporated.
Najib was finance minister and later prime minister in 2009.
Verbal spar erupts between Shahrol and Shafee over RM5b bond issue
9.57am - Shahrol Azral Ibrahim Halmi and lead defence counsel Muhammad Shafee Abdullah verbally spar over whether the former 1MDB CEO had tried to find out what happened to the sovereign wealth fund's RM5 billion bond issue in 2009.
It happens during cross-examination when Shafee asks Shahrol whether the witness had queried AmBank, which was arranging the bond issue, on the breakdown of the bond issue.
When Shahrol answers "I do not know", Shafee (photo) reminds the witness that he, as then 1MDB CEO, had the right to ask about it.
Shahrol: I did not (ask) at the time.
Shafee: You have the right to ask.
Shahrol: I do not know. You are telling me as a defence counsel. I need advice from counsel (prosecution).
Shafee: Why do you need to ask (prosecution)? You were 1MDB CEO.
Shahrol: I do not know.
Matters calm down when Shahrol reveals that the 1MDB board on two occasions in 2009 called AmBank to explain the matter."
SEE ALSO