by Ganesh Sahathevan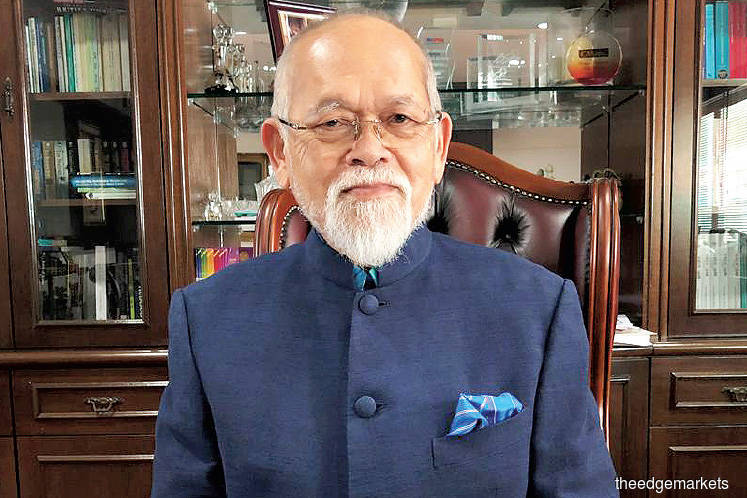 As reported by The Edge,4 July 2019:
A group of businessmen, led AirAsia Group Bhd's co-founder and former chairman Datuk Pahamin Ab Rajab (photo above), met Prime Minister Tun Dr Mahathir Mohamad yesterday to express their interest in helping the government turn around the ailing Malaysia Airlines Bhd, said sources.

A source close to the matter told The Edge Financial Daily that during the meeting, the group sought the approval of the premier, who is also chairman of Khazanah Nasional Bhd — the sole shareholder of Malaysia Airlines — to conduct due diligence on the national carrier in order to find the right solution.
Pahamin is a civil servant, and as this writer's post from 2007 shows, Tony Fernandes did their thing at Pacific Eagle, as AirAsia was once known, with a lot of help from the then Mahathir government.
Pahamin should not pretend that he is a Malaysian version of the
Lee Iacocca, who passed away recently, and is best known for saving Chrysler Motors.
And now , my post from 2007:
Air Asia Bhd ( or the Company) is the first and at present only LCC in Malaysia. It was also the first LCC in southeast asia.
The Company's life as an airline may be described as being in two phases, first as a Malaysian Government owned national carrier, and then in its present incarnation, as a LCC.
AirAsia as a full service carrier
Air Asia Bhd began life in 1993 as a subsidiary of the Malaysian Government owned HICOM Bhd. HICOM Bhd was a company brought into existence at the behest of the then prime minister Mahathir Mohamad ,who continued to take an active role in its development, overseeing its ventures. The Malaysian Government sold its majority stake in HICOM in 1996 to a local entrepreneur , Yahya Ahmad
[1]
.Nevertheless, Mahathir continued to exert managerial control over the Company. This is evident from accounts given by the current owners of Air Asia about how they purchased the Company. These accounts are looked at more closely later in this article.
It was then known as Air Asia Sdn Bhd ,and was the operator of Malaysia's second national carrier, commercially known as Pacific Eagle.
Its launch was delayed by two years, until 1995, when Malaysia Airlines , which was then, as it is today the country's original national carrier, refused to share its regional routes with AirAsia
[2]
.
Malaysia Airlines had, however , in 1994 been privatized by to another entrepreneur Tajuddin Ramli
[3]
,and this could explain the differences between the two national carriers.
Nevertheless, even in 1997, AirAsia's then director Datuk Tik Mustaffa said the company had made known to the Malaysian Transport Ministry its desire to have additional flight destinations, especially to China, India and Indonesia.
[4]
However, none of these routes were granted to it. It appears to have obtained the right to land in Croatia, but nothing seems to have come of the negotiations
[5]
.
There was also talk in 1997 of the company being allocated landing rights in Japan which the Malaysian Government had just won, but here also the Company appears not to have gained.
[6]
Despite these obstacles, by 2000, the Company was reported to have landing rights to "several regional destinations, including Taipei, Jakarta, Kaoshiung in Taiwan, Hong Kong and Pattaya in Thailand."
[7]
The onset of the Asian Crisis in 1998 appears to have affected the Company, as it did the majority of Malaysian companies. In that year the airline laid off 100 staff and suspended service to the Malaysian destinations of Penang and Kota Baru as well as to Jakarta and Kaoshiung in Taiwan . Then chairman Salleh Sulong blamed poor passenger loads for the retrenchment from Jakarta and Kaoshiung and said the Penang and Kota Baru flights were affected by the opening of an expressway
[8]
.
These problems were exacerbated by a decision of the Malaysian Government in 1999,which in light of current developments, raises questions about the freedom Air Asia had under its previous management to execute competitive strategies.
A report on that decision is reproduced here in part given its importance in demonstrating the importance of Government support even when a competitive advantage has been gained:
The government of Malaysia has turned down an application by Air Asia, the country's second designated national carrier, to operate international flights from Sultan Abdul Aziz Shah Airport in Kuala Lumpur. Failure to get approval prompted the airline to drop its Kaohsiung, Jakarta, Pattaya and Taipei routes…….. The government's decision frustrates Air Asia's hopes to expand and become a full-fledged international carrier. The government fears that granting Air Asia the approval would mean further losses for ailing national carrier Malaysia Airlines (MAS) because passengers prefer to fly from Abdul Aziz, which is 25 kilometers from the city, rather than Kuala Lumpur International, which is 60 km away. Air Asia already is eating into MAS revenue, reporting 100% passenger loads on its domestic flights. ……….The government said initially that international landing rights would be shared between Air Asia and MAS but later minced its words, indicating that Air Asia would have to negotiate on its own
[9]
.
Yahya Ismail who had taken over HICOM and oversaw the development of Air Asia in its early years was killed in 1996 when the helicopter he was in exploded in mid-air. Government intervention in HICOM,and in Air Asia, following Yahya's death and the Asian Crisis in 1997 seems to have increased ,as is evident from the sale of the Company to Tune Air Sdn Bhd.
Air Asia as a LCC
On December 8 2001, the current major shareholder Tune Air Sdn Bhd took over AirAsia from HICOM (by then renamed DRB-HICOM)
[10]
.
The deal was done for a consideration of just USD 25 cents, and the assumption of about USD 10 million , or a third of Air Asia 's debt.
[11]
On 22 November 2004 the Company listed on the Kuala Lumpur Stock Exchange, with a
market capitalization of about USD 750 million.
Considering that the current owners who are also its management bought the Company for just USD 0.25 cents in late 2001, management appeared to have added value to a magnitude of some three billion times in under 3 years.
The obvious question that arises is ; how and why were the new group of managers able to create a competitive advantage and create value in the firm when e the previous ones could not?
As the history of Air Asia as a full cost carrier shows, the company did successfully compete with Malaysian Airlines, and was even wanting to expand its network.
It was not attempting to be a low cost carrier, but it was presenting itself as an alternative to the incumbent. Therefore it could be said to have successfully executed a strategy of differentiation.
Yet, previous management was frustrated in its attempts to compete by the same Government who sold Air Asia to Tune Air for USD 25 cents. As will be shown in the following part, current management would not have been able to implement a strategy of cost leadership without the backing of the Malaysian Government, primarily its then prime minister Mahahtir Mohamad.
Air Asia and political patronage-the facts of the case
The story of its beginning as a LCC has been told by the company's chief executive officer Tony Fernandes in a number of interviews which provide considerable insight into how important patronage can be as a tool of strategy.
According to one his first interviews after taking control of Air Asia :
Fernandes said the idea of starting an airline came from him. "I had this desire to start an airline and I thought a low-fare airline would work very well in Malaysia. So I went around and started putting the plans together. I roped in three partners — Datuk Pahamin, Aziz and Kamarudin, for starters. Datuk Pahamin helped arrange a meeting with then Prime Minister Tun Dr Mahathir Mohamad.
"It was Dr Mahathir who said that he would rather us buy an existing airline than to start a new one. I think Dr Mahathir's vision was all about turning companies around as opposed to starting new ones. And it was the greatest thing that could ever have happened because one, AirAsia has a strong brand. Two, it was a good airline that DRB-HICOM had started. Operationally, the airline is a safe airline, with good pilots and good staff.
"So, we didn't have to go through the painful process of recruiting and training people. We had a working model from day one. We just had to change the strategy a bit," said Fernandes
."
[12]
Disclosed in this report is the fact that Pahamin, the former civil servant, was instrumental in arranging a meeting with Mahathir to enable Fernandes to sell his idea. One recalls that Pahamin was , until he joined Air Asia, a civil servant.
This suggests that in the case of Air Asia, Mahathir appears to have gifted Air Asia to a civil servant and his partners.
This conclusion is further supported by a fact undisclosed in all stories concerning Air Asia's success as a LLC.
This is the fact that Fernandes and his partners were allowed to take over an airline, that was no doubt in debt, but nevertheless which earned revenues of about USD 25 million a year generated from chartered flights ,ferrying pilgrims to and from Mecca
[13]
.
That contract was lost in September 2003, when the Pilgrims Board decided to hand the job of ferrying pilgrims back to Malaysian Airlines, who had in fact been doing so since 1974.
[14]
Nevertheless, the Pilgrims Board is an arm of Government and it in turn reports to the minister for religious affairs, who is a special minister within the Prime Minister's Department.
The value of those contracts was only disclosed in the Prospectus issued by the company in conjunction with its initial public offering of shares to the public
[15]
.
A sale of a company for a nominal amount of just USD 25 cents implies that it has zero or negative net present value.
However , as Fernandes himself admits, " AirAsia has a strong brand."
The fact that Air Asia already had a strong brand, coupled with a guaranteed cash flow of USD 25 million a year , and with its debt reduced by almost a third , was clearly an advantage that allowed the new management the leeway to implement cost saving strategies that it might not otherwise have been able to implement.
Again as Fernandes himself admits,
"we didn't have to go through the painful process of recruiting and training people. We had a working model from day one. We just had tochange the strategy a bit".
In a subsequent story in Business Week Mahathir's role was affirmed, the facts above confirmed and further elaborated on:
When Tony Fernandes wanted to start Malaysia's first discount airline a few years ago, he couldn't get a license. Then he heard bankrupt Air Asia, with two Boeing jets and $11 million in debt, could be bought from the government. All he had to do was sell then-Prime Minister Mahathir Mohamad on the idea. The two met in October, 2001, with Fernandes, a British-trained accountant, telling Mahathir a discount carrier could revolutionize Southeast Asian air travel and boost tourism at a time when airlines worldwide were struggling from the impact of the September 11 terrorist attacks
.
[16]
According to the same report ,Mahathir was also instrumental in the Air Asia's expansion:
Fernandes' biggest achievement has been to turn Air Asia into an international carrier. Before he arrived on the scene, countries in the region never had any kind of open-skies agreement. In mid-2003, Fernandes' lobbying pushed Mahathir to raise the idea with the leaders of neighboring Thailand, Indonesia, and Singapore. As a result, those nations have granted landing rights to Air Asia and other discount carriers."
On the matter of landing rights, it is clear that Air Asia had already under its previous management obtained landing right in at least Indonesia, Thailand and Taiwan . These were lost only when the Malaysian Government refused to grant Air Asia use of the airport closer to Kuala Lumpur ,thus causing it to terminate its services to those countries
[17]
.
As mentioned in the report cited, it was the competition that Air Asia as a full service carrier posed the national carrier, Malaysian Airlines ,which caused the Government to act against Air Asia.
Subsequently, it was the very same Government that enabled Tony Fernandes to take over Air Asia for next to nothing-and then gave it the room to become what it is today.
References
[1]
For a history of HICOM see the HICOM's website at http://www.drb-hicom.com/aboutus/history/corp.htm
[2]
"Second aircraft for AirAsia", New Straits Times (Malaysia) 3 February 1997
[3]
MICHAEL BOCIURKIW, Malaysia Airlines - At 50, still suffering from growing pains,
Asia Times
, 25 April 1997
[4]
see Note 4
[5]
Croatian PM seeks stronger ties in Malaysia visit,
Reuters News
, 3 March 1997
[6]
See New Straits Times report, "Malaysia wins extra landing rights to Japan""
A week before the Prime Minister's official visit to Japan, Malaysia has won extra landing rights to Osaka, Nagoya and Fukuoka, allowing an additional 900 passengers to travel weekly to the Land Of The Rising SunHowever, Dr Ling was non-committal when asked whether the new landing rights would be given exclusively to Malaysia Airlines. "This," he said, "would be discussed by ministry officials and airline operators." Besides Malaysia Airlines, two other local airlines Air Asia or Transmile, which fly regionally, also have a shot at the new landing rights. "What is important now is to ensure that the new landing rights would be fully utilised by these three airlines," he said.
By Alex Yoong, 20 March 1997,
The New Straits Times
[7]
WILLIAM DENNIS," Massive Restructuring For Malaysia Airlines",
Aviation Week & Space Technology
,page 49, Vol. 153, No. 19
[8]
Air Asia Cuts Flights, Lays Off Workers,
Aviation Daily
,page 515 Vol. 332, No. 60
[9]
Air Asia Fails To Get Approval For International Flights From Kuala Lumpur,
Aviation Daily
, 23 February 1999
[10]
extracted from Air Asia website http://www.airasia.com/aboutus/timeline.php?language=en
[11]
NICHOLAS IONIDES , Man of The Moment, Airline Business ,April 2004 http://www.airasia.com/news.php?f=aboutus/papers&p=080404
[12]
Kang Siew Li," Fernandes pilots AirAsia to greater heights."Business Times, (distributed with the New Straits Times) Saturday, December 20, 2003
[13]
Thomas Soon., "DRB-Hicom in talks with Tabung Haji over sale of Air Asia stake.", 19 March 2001
The Edge (Malaysia)
[14]
Mohd Faizal Zakariah. MAS secures contract from Tabung Haji, 25 September 2003
The Edge Malaysia
[15]
Air Asia Prospectus ,at page 167
[16]
Businessweek Online , SPECIAL REPORT -- STARS OF ASIA -- ENTREPRENEURSJULY 12, 2004
http://www.businessweek.com/magazine/content/04_28/b3891409.htm
[17]
see Note 11