by Ganesh Sahathevan

By Ganesh Sahathevan who takes credit for placing these photos in context.
As readers can see, Douglas and Cindy Lim are only a small part of a much wider circle of very rich and glamorous friends.
http://keehuachee.blogspot.com/2011/06/datuk-douglas-cheng-married-charlene.html
TUESDAY, JUNE 14, 2011
DATUK DOUGLAS CHENG MARRIED CHARLENE YEO ON 11 JUNE 2011 AT SHANGRILA HOTEL
kee@fswmag.com
A precious picture to remember;
From left, Maira Nazarbayev from Kazakhstan whose son Daniyar will marry Datuk Seri Najib's daughter Nooryana Najwa, her son Khanbolat Nazarbayev, mother of the bride Tan Ai Lee, mother of the groom Datin Chee Mae Cheng, First Lady Datin Seri Rosmah Mansor, radiant bride Datin Charlene Cheng, handsome groom Datuk Douglas Cheng, the Honourable Prime Minister of Malaysia Datuk Seri Najib Tun Razak, host and father of groom Datuk David Cheng, his younger son Andrew Cheng, father of the bride Datuk Yeo Lai Teck and Mark Yeo.
The lovely bride Datin Charlene Cheng welcoming Prime Minister Datuk Seri Najib Tun Razak
The bride Datin Charlene, Datin Chee Mae Cheng and Datuk David Cheng laughed as the Prime Minister was welcomed by his son Noorashman better known as Ashman.
The Prime Minister of Malaysia being greeted by good friend Tan Sri Vincent Tan, chairman of Berjaya Group.
Datuk David Cheng pointing to the holding room although the ever considerate Prime Minister suggested they should descend to the Ballroom downstairs and not keep the guests waiting.
The Prime Minister introducing his soon to be son-in-law Daniyar Nazarbayev who will be engaged to his daughter Nooryana Najwa this Friday 17 June.
Datuk Robin Tan, CEO of Berjaya Corporation and his tycoon father Tan Sri Vincent Tan are old friends of the Prime Minister.
Datuk Seri Najib Tun Razak revealing he had a very slight limp from playing football.
"At our age, we should be more spectator than player," suggested this VIP.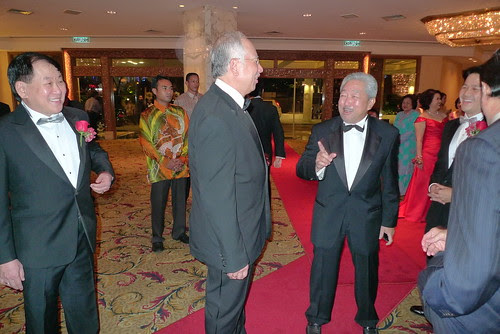 Everyone seemed to agree!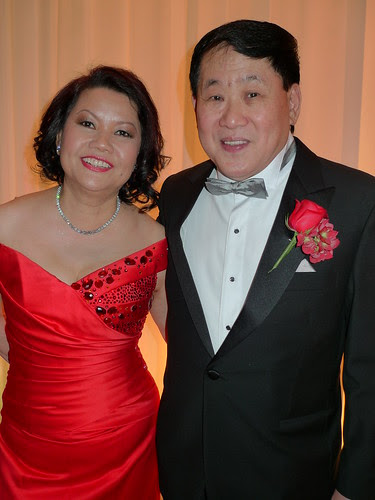 Hosts with the Most! Datin Chee Mae Cheng and Datuk David Cheng
The bride Datin Charlene Cheng in Monique Lukhiev
Kee Hua Chee is honoured to be photographed with one half of the Couple of the Year 2011!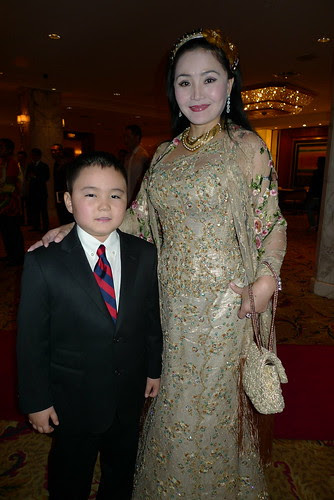 This boy Khanbolat Nazarbayev quite stole the show with his cuteness and apple coloured cheeks. With him is his glamorous and regal mother Maira Nazarbayev from Kazakhstan.
The soon to be inlaws of Datuk Seri Najib Tun Razak and Datin Seri Rosmah Mansor; the Prime Minister's daughter Nooryana Najwa aka Gina, her betrothed Daniyar Nazarbayev who looked like a movie star with his handsome face and height, his stunning mother Maira Nazarbayev and brother Khanbolat Nazarbayev.
Full length picture to show their elegant gowns.
Precious Picture; Datuk Seri Najib Tun Razak, Prime Minister of Malaysia with Datuk David Cheng and his clan. From left; Andrew Cheng, Datin Mae Cheng, bride, groom, Prime Minister and Datuk David Cheng
The Prime Minister's son Ashman is asked to join.
The bride's parents Datuk Yeo Lai Teck and Madam Tan Ai Lee then joined the group!
And finally Daniyar Nazarbayev and Nooryana Najwa, daughter of the Prime Minister who will be officially engaged this Friday 17 June! All in the family now!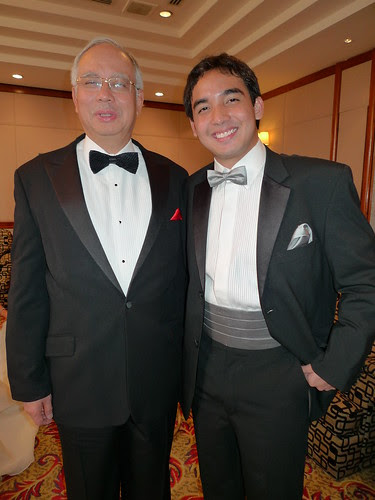 Prime Minister Datuk Seri Najib Tun Razak with handsome son Noorashman aka Ashman.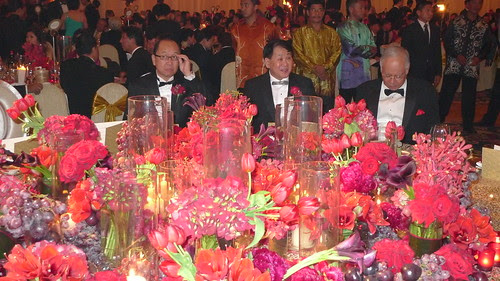 The fathers of the bride and groom with the Prime Minister of Malaysia Datuk Seri Najib Tun Razak
What an honour for bride and groom to be seated next to the Prime Minister and his wife!
This is the ultimate!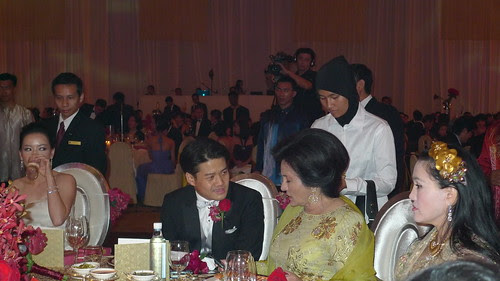 Bride taking a sip as Maira Nazarbayev looked on
Smiles all round before dinner begun.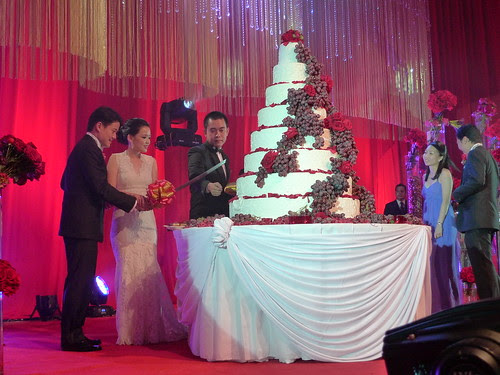 Cutting the grand, 8-layered wedding cake festooned with red roses and grapes.
Gently does it
The bride feeding the groom...
...and vice versa!
First Lady Datin Seri Rosmah Mansor looking effortlessly elegant and stylish as usual with Datin Chee Mae Cheng.
Time to go, the Prime Minister seemed to be saying.
Radiant bride Datin Charlene, good friend Ashman Datuk Seri Najib and handsome groom Datuk Douglas Cheng.
The Couple of the Year 2011! Datin Charlene Cheng in Amsale gown from New York and Datuk Douglas Cheng in Lord's Tailor suit from Bangsar Shopping Centre, touted as the best menswear tailior in all Malaysia.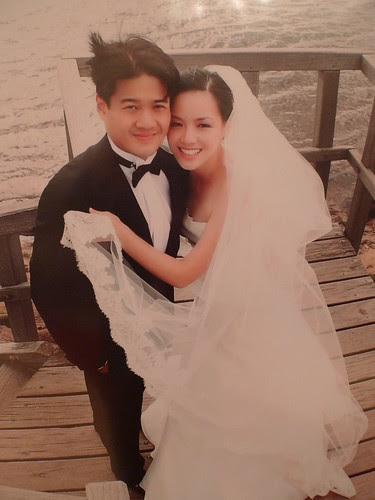 The bride and groom in Phuket in Lord's Tailorand Vera Wang
Handsome Kazakhstan hunk Daniyar and his soon to be bride Nooryana Najwa, the pretty daughter of Datuk Seri Najib and Datin Seri Rosmah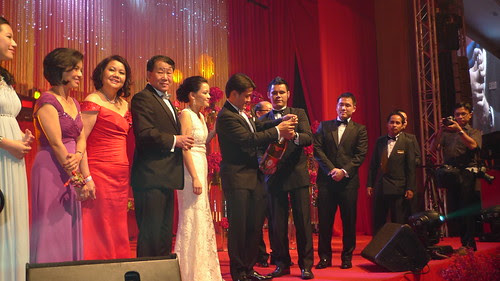 A toast on stage by members of the Cheng and Yeo families plus friends
The magnum of Louis Roederer Brut Premier Champagne is proferred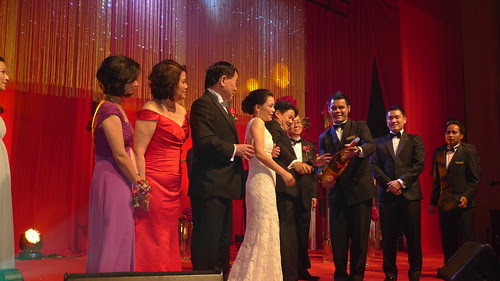 The champagne's cork popped!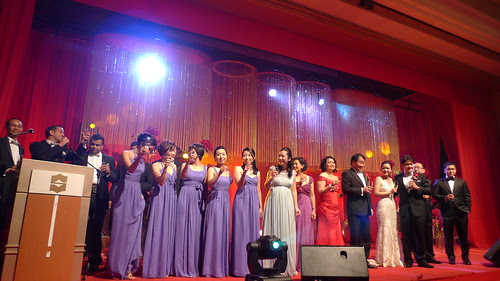 A toast to the blessed couple!
Yamseng!
Again...this time hosted by Sam Chen
Datuk Seri Wong Chun Wai, Group Chief Editor of The Star, Yong Su Lin, her husband Ling Hee Keat, his father Tun Dr Ling Liong Sik, former president of MCA, Toh Puan Ena and Datuk David Cheng.
Tun Dr Ling Liong Sik pointing the way to Toh Puan Ena Ling
Datuk Seri Wong Chun Wai, group chief editor and executive director of The Star, Patricia and her husband Singapore ambassador HE Mr Datuk T. Jasudasen and Datuk Robin Tan of Berjaya.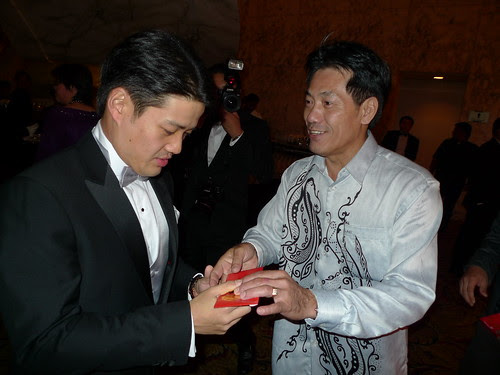 Datuk Douglas Cheng was very touched by this simple gesture of being given an angpow for his wedding. Regardless of amount, it is the thought that counts
Datuk Douglas Cheng with Datin and Datuk Thong Kok Khee
Datin Seri Florence and Datuk Seri Wong Chun Wai with Datuk Douglas and friends
Datuk David Cheng with SP Setia president and CEO Tan Sri Liew Kee Sin, his wife Puan Sri How Teng Teng, daughter Su Yen and son Tien Wei
All titled except one; left, Datuk David Cheng, Datuk Douglas Cheng, Tan Sri Vincent Tan of Berjaya Group, Datuk Surin Upatkoon of Multi-Purpose, Datuk Robin Tan of Berjaya Corp and Sam Chen.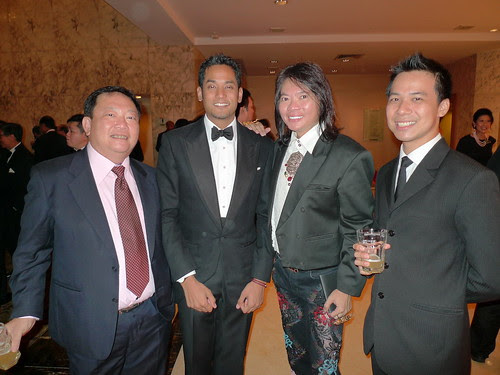 Datuk Khairy Jamaluddin, head of UMNO Youth with big fan Kee Hua Chee
Datuk Wong Sai Wan hamming it up with Kee Hua Chee
Still at it!
Datin Janet Mok, former Miss Malaysia and still a ravishing beauty queen with her family
Datin Janet Mok and Datuk David Cheng and family
May Ta, her mother Puan Sri Ta, Datin Seri Florence Wong and friend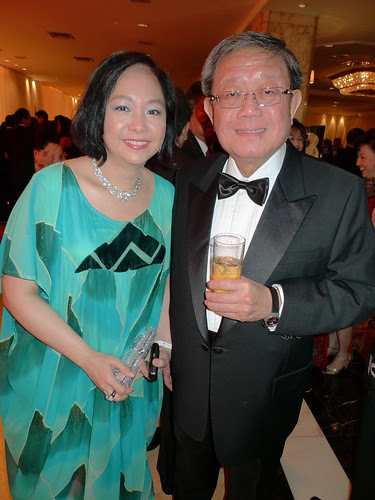 Puan Sri Chelsia and Tan Sri William Cheng of Lion Group.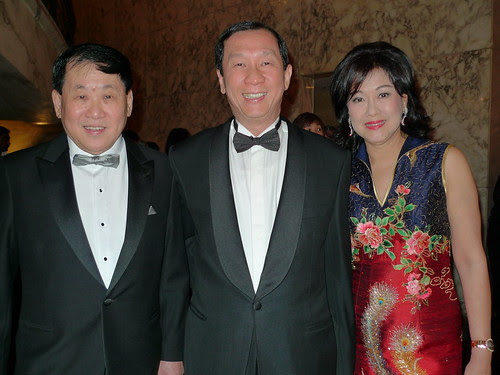 Datuk David Cheng, Tan Sri Danny Tan of Dijaya and Puan Sri Ivy Tan.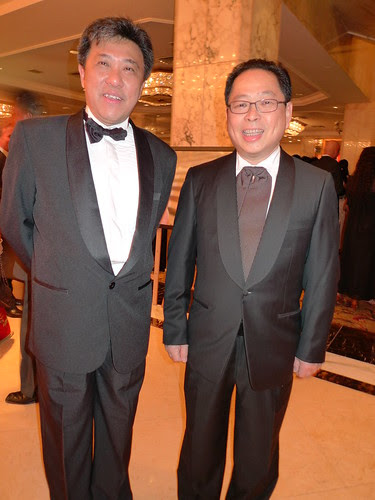 Datuk Seri Wong Chun Wai, group chief editor of The Star and former Deputy Executive Chairman of The Star Datuk Steven Tan.
Top jeweller to diamond connoisseurs Suen and Datin Jenny Tan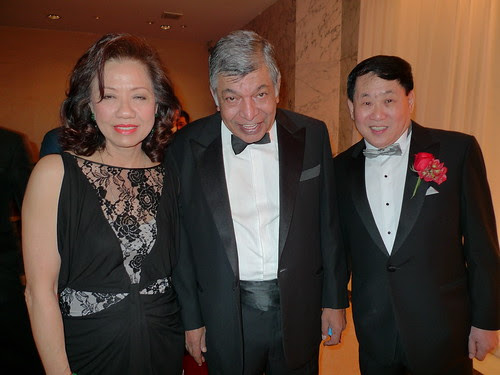 Puan Sri Siew Yong Gnanalingam, Tan Sri Gnanalingam and Datuk David Cheng
Datuk Mokhzani Tun Mahathir and Datin Mastisa Hani
The perennially stylish and sexy Datin Ezurin, Datin Chee Mae Cheng and Tunku Datuk Yaacob Tunku Abdullah of Melewar.
Datuk David Cheng, Datin Mae Cheng, Datin Anita and Datuk Ramli Yusuf
DATUK DOUGLAS CHENG HENG LEE,35, MARRIED CHARLENE YEO MING LING, 30 (NOW DATIN OF COURSE) ON SATURDAY 11 JUNE 2011 AT GRAND BALLROOM, SHANGRILA KUALA LUMPUR.
DATUK DOUGLAS IS THE ELDEST SON OF DATUK DAVID CHENG JOO TEIK AND DATIN CHEE MAE CHENG WHILE DATIN CHARLENE CHENG IS THE YOUNGEST DAUGHTER OF DATUK YEO LA TECK AND MADAM TAN AI LEE.
IT WAS THE NON-ROYAL, NON-POLITICAL WEDDING OF THE YEAR AS THE GRAND SCALE AND NUMBER OF IMPORTANT GUESTS WERE TESTIMONY TO DATUK DAVID CHENG AND HIS SON'S MANY FRIENDS WHO CAME FROM FAR AND NEAR TO TOAST THE COUPLE.
The wedding was celebrated not once but twice!
The first celebration was from 3 to 5 June 2011 on Phuket, Thailand, the world acclaimed island in the sun where international jet setters congregate to pose, preen and party! Datuk Douglas Cheng invited 200 guests and chartered an entire Air Asia plane to fly them to Phuket. The festivities started even before take-off, let alone during the flight when it was a case of non-stop partying and joie de vivre.
Remember I said 200 guests? As the Air Asia plane was not from long haul Air Asia X, it could accommodate only 160 guests. Did the rest fly commercial? God forbid, they flew to Phuket on their own private jets! Just proves how successful and far Malaysians have come since Independence when owning a motorbike was a milestone in life and buying a car was a major event.
The bride and groom booked all 80 water villas and other suites at the posh Anantara Phuket Villa and celebrated for three days running.
Friends of the Couple of the Year helping as ushers with Sam Chen
Datuk Ann Eu, chairman of Eu Yang Sang and Katherine Mah
Mrs Rosemarie Wee, regional PR director of ShangriLa Hotels who was personally thanked by name by the host for a job well done with Kee Hua Chee.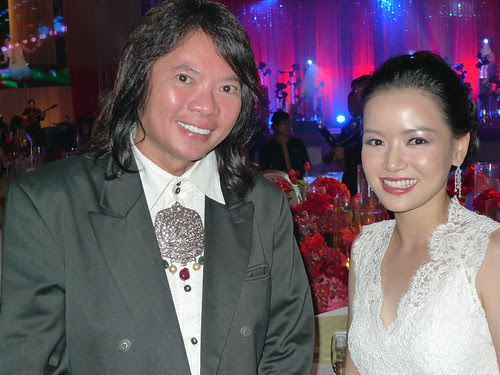 Kee Hua Chee and Datin Charlene Cheng smiling so brilliantly I wonder if we share the same dentist Datuk Dr Sean Paul of Livingwell Starhill!
Hot sisters; Datin Elizabeth Teo and Datin Catherine Lai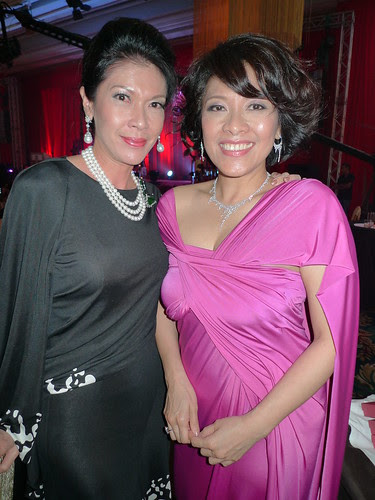 The purple girl should be Datin Catherine Lee since she is married to Datuk Tony Lee but I have known her through many reincarnations so to me she is Datin Catherine Lai as this was her name when we first met when she was a model
The sisters looked like they are in their twenties. Actually they are in their thirties...
You can tell they have done this before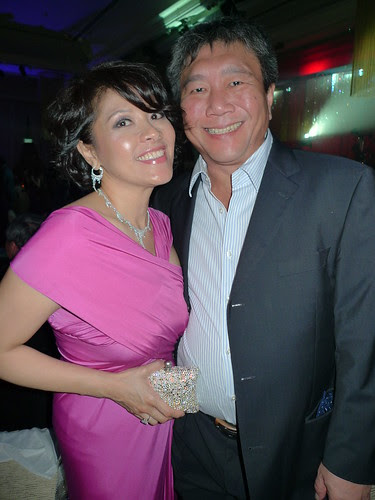 Datin Catherine and Datuk Tony Lee. I was there when he went down on his knees to propose and I nodded vigorously to Cat Lai to accept!
Datin Catherine Lai and friend through the eons Kee Hua Chee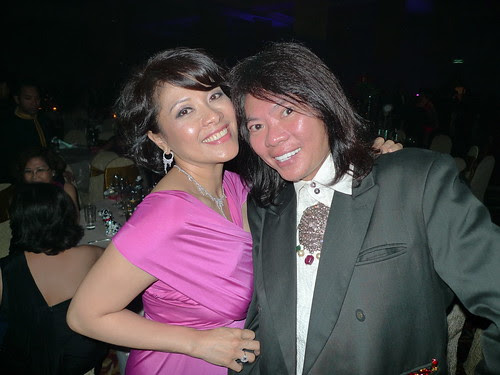 I must admit we looked like the perfect couple!
I still cannot recover from the floral fest.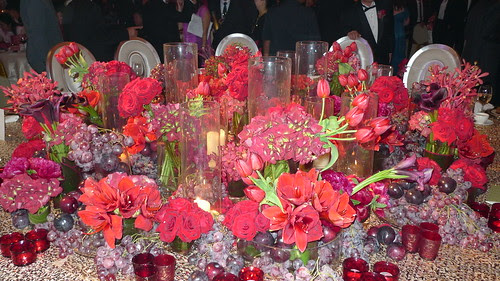 With flash...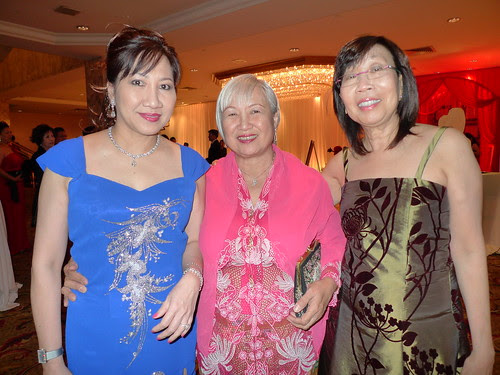 Datin Annie Chin, Agnes Chee and Swan Larson
Lynn Chong and Datin Irene Chu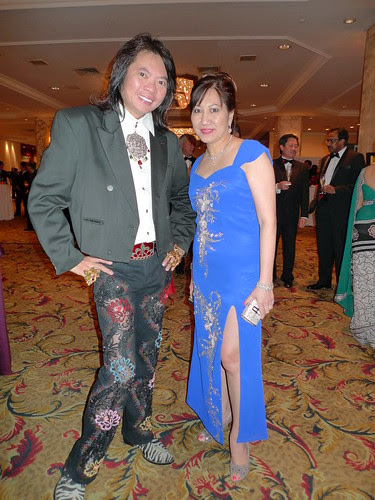 Kee Hua Chee with Datin Annie Chin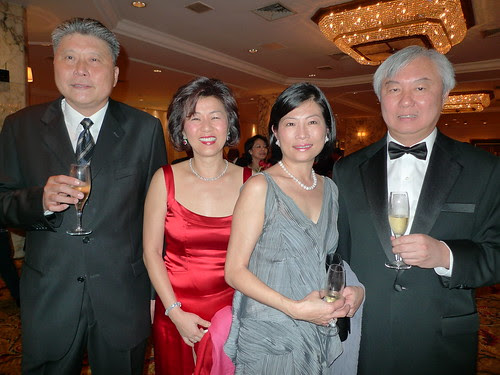 Datuk C.K Lim, Datin Wai Ming, Datin Grace Lee and Datuk Lee Soon Hian
Tan Boon Lee, Low Su Ming, Salbiah and Asgari Stephens
Katherine Ng of Air Asia, Freddie Tan, Lorraine Tan and Philomena Aw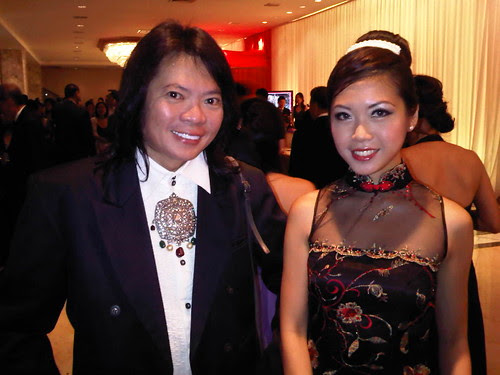 Kee Hua Chee with Katherine Ng
Soren and Malene Ravn. He is boss of Carlsberg Malaysia whose new slogan 'That calls for a Carlsberg' perfectly suited the theme for the night!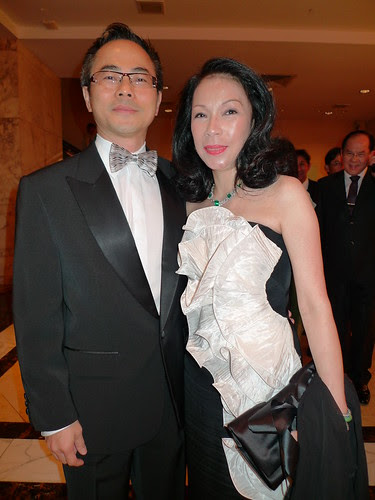 Peter and Pinky Tham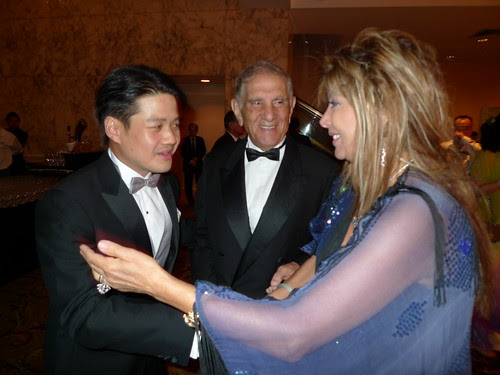 Datuk Douglas Cheng welcoming Nilou Gabrielli wife of the Italian ambassador HE Mr Fulco de Luca Gabrielli. Looking on is Monty, Nilou's father.
YTM Tunku Naquiyuddin and YAM Tunku Nurul Hayati
The groom welcoming the Tunku Laksamana of Negri Sembilan and his consort.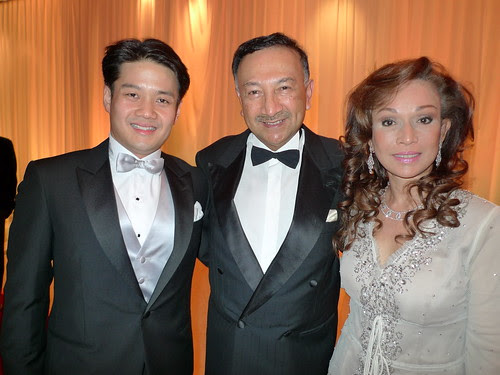 Thoroughly sleek, polished and elegant! Datuk Douglas Cheng, Tg Naquiyuddin Tuanku Jaafar and Tg Nurul Hayati
Glamour couple; Ralineshah and Faliq Nasimuddin
Two glamour couples! Marion Caunter and hubby Nasaruddin Nasimuddin, Faliq Nasimuddin and Ralineshah. I presume Datuk Douglas got a gift from Tod's!
Ravishing beauty Rekha Sen and hubby Niklas von Bueren of Lotus Arts de Vivres and her mother Ming Suan
Ruben Emir Gnanalingam CEO of Westports and Shirieene Hajamaideen
Ong Gaik Ting and Lim Chip Keong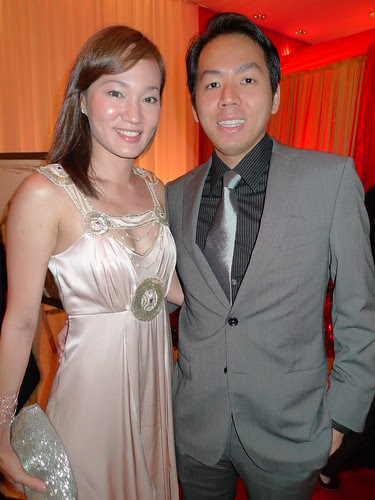 Kristine Goh and Tan Boon Seng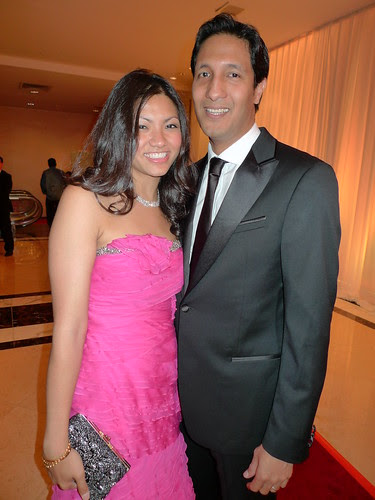 Shaline Gnanalingam and hubby Mohan Rajasooria who flew in from Hong Kong for the occasion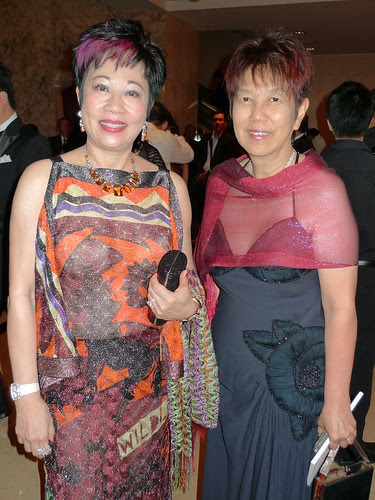 Dr Anne Chan and top lawyer Chan Mo Ling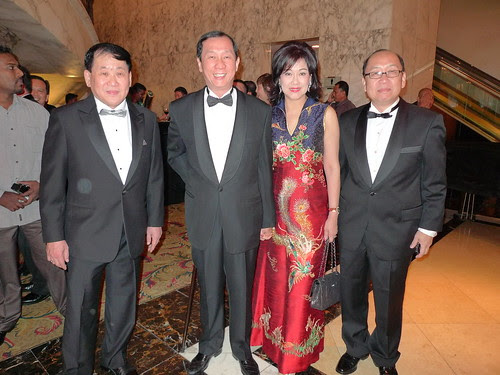 I love Puan Sri Ivy Tan's imperial gown worthy of Forbidden City!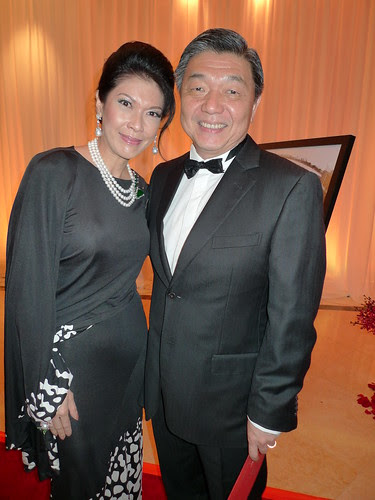 Datin Elizabeth and Datuk Teo Chiang Hong
Handsome men! Daniyar Nazarbayev and Syed Budriz, nephew of Sultan of Selangor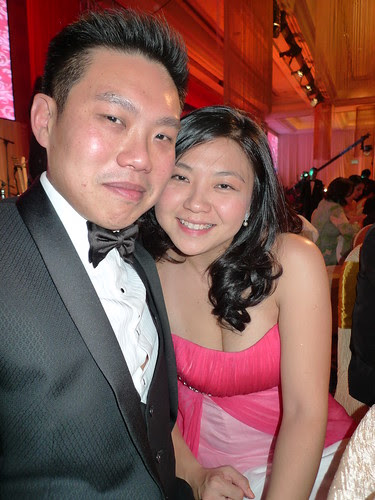 Kenny Loh made the wedding suit for Datuk Douglas Cheng as he is MD of Lord's Tailor, the best menswear tailor in Malaysia and his wife Jenny who runs Steps Ahead for pre-schoolers
Ken G and Alan Lun of The Occasions
Florence Ho and brother, oops, son Ch'ng Yee an amateur boxer
Phillip Ooi the soon to be husband of Elizabeth Tan and sister Gabrielle Tan of The Gardens as their father Robert Tan owns the mall.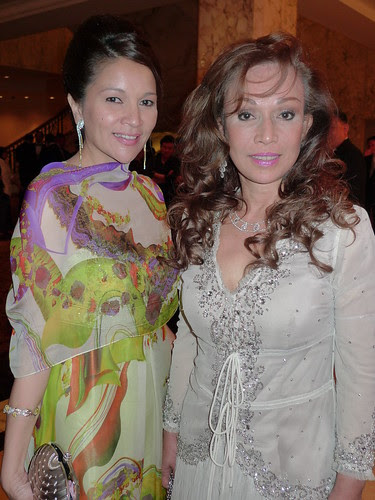 Royal Beauties; Tunku Ireen Tuanku Jaafar and Tunku Nurul Hayati of Negri Sembilan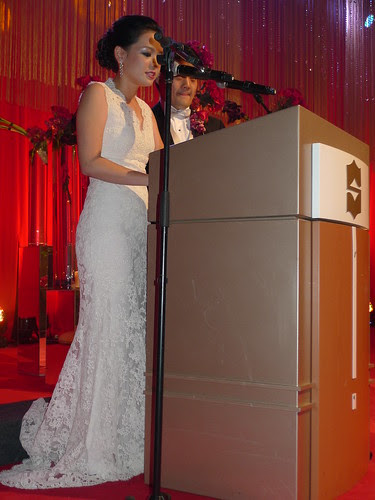 The Couple of the Year 2011 thanking their guests in Monique Lukhiev and Lord's Tailor.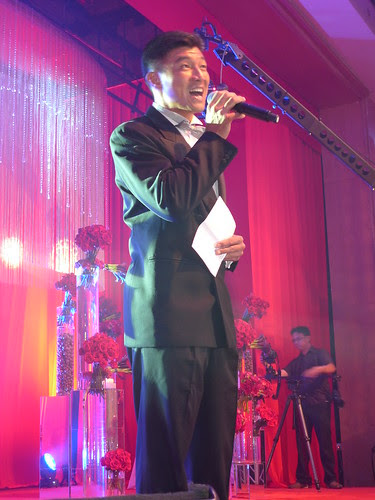 Ling Hee Keat singing Ronan Keating's hit "When You Say Nothing at All' and subverted the lyrics to suit the occasion!
Khanbolat Nazaryev was the youngest guest at 5.
The Nasi Lemak Beauties! These pretty ladies in a row were enjoying a midnight supper of Nasi Lemak in the foyer outside the Ballroom when they took a respite to pose for me.
Of course the highlight was the Wedding of the Year at ShangriLa as around 1,200 relatives, friends, royals and VIPs came to wish the newly bethrothed all joy in life. Everyone who was anyone was there and I verily believe if you were not invited, by now you should have packed your bags and be on your way to Siberia where you will spend the rest of your life as social outcast.
The menu consisted of lobster salad, consomme with scallops, mushrooms, fish maw and Chinese chard, 8 Treasures chicken in gold foil, stewed broccoli with sea cucumber, mushrooms and scallops, honey glazed codfish, glutinous rice wrapped in lotus leaf and hazelnut royaltine. Champagne was Louis Roederer Brut Premier, wine was Faiveley Chablis premier cru Montmains 2008 and magnum of Chateau Leoville Poyferre Grand Cru 1999 while liquor was Glenfiddich 18 years, Macallan 18 years, Grey Goose, Bombay Sapphire and Martell Cordon Bleau. The beer was Carlsberg, whose slogan "That Calls for a Carlsberg" fitted the theme perfectly! Everything flowed smoothly like champagne and the host felt compelled to announce, "We would like to thank Mrs Rosemarie Wee of ShangriLa for making tonight such a success and the hotel for their effort and expertise."
The bride Datin Charlene Cheng nee Yeo looked resplendent in a white bridal gown with tail from Amsale, the renowned New York bridal designer. Amsale Aberra was born in Addis Ababa, Ethiopia and came to USA to study commercial art before making her own wedding gown and finding success ala Vera Wang.
Later Datin Charlene changed into another white gown, this time by Monique Lukhiev. In Phuket she wore Vera Wang.
The Guests of Honour were Prime Minister of Malaysia Datuk Seri Najib Tun Razak and the First Lady Datin Seri Rosmah Mansor. Accompanying the Prime Minister was his soon to be son-in-law Daniyar who is from Kazakhstan and resembles a movie star with his dashing good looks, towering height and charming personality. His mother Maira Nazarbayev was a golden vision with her tiara and glittering gown. She also brought her youngest son Khanbolat who quite stole the show in his tuxedo and apple-red cheeks. Daniyar will be officially engaged to Nooryana Najwa usually known as Gina to her friends just as Daniyar is Danny to his circle this coming Friday 17 June 2011.
The magnificent floral fantasy that was a veritable botanical garden blooming in the middle of the Main Table with red flowers and red grapes.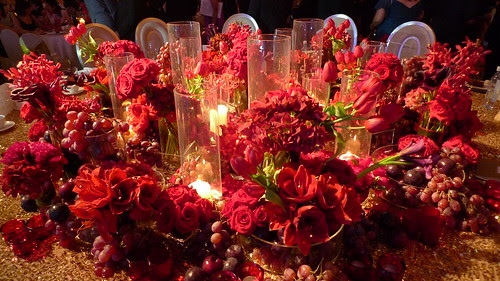 And they are so photogenic too!
The Main Table was a miniature botanical garden with red flowers blooming amid matching red grapes. Later after the VVIPS left, many guests congregated here to admire and photograph the stunning floral arrangement. Every guest table came with lovely centrepieces albeit on a smaller scale. On every table was a magnum of Chateau Leoville Poyferre and Glenfiddich whisky. We waited for the new bride and groom to yamseng at every table but this noisy Chinese tradition did not happen out of respect to the VVIPs and as there were 120 tables, it would have taken Datuk Douglas Cheng all night to do the rounds!
The host Datuk David Cheng and his wife Datin Chee Mae Cheng was invited to the stage by emcee Datuk Mahathir Lokman. Datuk David Cheng welcomed his guests with 'Selamat Datang', 'Ta Chia Hau' and 'Vanakam' and joked that he hoped the Chairman of Barisan Nasional aka Prime Minister Datuk Seri Najib Tun Razak might choose him as candidate for the next election. Then he made a little boo-boo by addressing the Prime Minister as 'Datin Seri Najib Razak'! The audience gasped as his wife Datin Mae Cheng quickly corrected him and he apologised profusely to everyone's amusement. I have made such mishaps before so I know the feeling. The Prime Minister grinned broadly.
Datuk David Cheng commented how caring his son Datuk Douglas Cheng was as the latter was always concerned about his parents' well-being and health. Said the proud father, "You can always depend on Douglas to do the right thing though you must be patient. He once arranged to take the whole family to Melbourne and we arrived in good time at KLIA for the 9 pm flight to Melbourne. Except there was no such flight. But there was one flight which left at 9 am!
"Douglas's friends will know he tends to be late and we are familiar with 'Where is Douglas?" and 'Douglas is late". If I phone him, he will say "I am on my way, Dad, don't pressure me". If there is still no sight of him, I will call and he will say "I am just round the corner". But which corner? The corner round the house or corner round KLIA? I am glad he is not late for his wedding tonight!"
Datuk David Cheng also observed it is near impossible for his son to say 'No' to people. "As a result, he may end up with 4 or 5 enagagements in 1 night! But he has changed for the better. One VIP has even called him 'Reliable Cheng'!"
Then it was the turn of the ever smiling and hospitable Datin Chee Mae Cheng, known as Datin Mae Cheng, to say a few words. "First I would like to thank my husband David for 38 years of marriage. I have 2 sons Douglas and younger son Andrew who has been married to Angela for last 2 years. I brought them up the same way but somehow they grew up to have different personalities. I will ask you to decide who is who.
"One is talkative, one is quiet. One did his homework, one seldom bothered. One is low profile, one is man about town. One is always on time, one is always round the corner or on the way. One spends hours working on a deal, one gets the deal done. They are like yin and yang and truly I cannot ask for 2 better sons than what I have!
"My mother wrote this my autography book when I was 11---you can have all the gold from ancient times till now but you still cannot buy time. This is very true as time is most important. In Chinese culture, it is very auspicious to have 3 Dragons in the family. I am a Dragon. Douglas is a Dragon and next year is a Dragon Year so Charlene, please get down to work quickly!" beamed Datin Mae Cheng as the audience roared with laughter.
Then it was the turn of Datuk Douglas Cheng's younger brother Andrew to take over the mike. Grinned Andrew Cheng who obviously relished living in big brother's shadow. "I am used to being intrduced as Douglas's younger brother! If I say I am Andrew Cheng, I am greeted by a polite smile and nonchalance. But when I say I am the younger brother of Douglas Cheng, it makes an impact---everyone will smile and offer me a drink! Douglas knows everyone!
"I look up to him and like a good older brother, I learned from him what to do an even more important, what not to do! For instance, when I was 15 I learned it was better to return home pissed drunk at 3am and not 5am. And it is better to show up late by 15 minutes instead of 3 hours! I have an advantage----people always tell me how well behaved I am after they know I am Douglas's younger brother!
"Douglas met Charlene 14 years ago when they were both university students with bad hair styles. My brother is a true chinaman as he believes the biggest, tallest, highest, rarest and most expensive is always best. Charlene is a positive influence here and insists on choosing where to go on their honeymoon. Knowing Douglas, he would opt for Las Vegas but now Charlene is taking him to some place in Croatia whose name he can't even pronounce!
"Charlene has turned this hopeless chinaman into a hopeless romantic. He proposed to her in front of cheering thousands on his knees during the Australian Open finals in Melbourne last year. Of course this is Douglas's version. According to Charlene's version which I tend to believe, they arrived so early the stadium was practically empty and he was on his knees for a few seconds only!
"Charlene is really useful to have when you are lost in foreign places. All you have to do is, if she says turn left, you should turn right! Her sense of direction is that bad!
"It is not usual for the younger brother to give advice to the older brother on marriage but then I married first. My advice is--- don't allow yourself to be triple booked every night and spend more time with Charlene!"
Another bosom pal Datuk Robin Tan, CEO of Berjaya Corporation and son of tycoon Tan Sri Vincent Tan of Berjaya Group also took to the stage to give the lowdown on Douglas and Charlene.
Datuk Robin Tan announced immediately his speech has been heavily censored by both Datuk Douglas and Datin Charlene. "Even the video has been censored as it shows Douglas working out in the gym shirtless! You will all notice the excellent physique of Douglas. This is due to him losing 12 kgs in 3 months! He has since declared 'Too bad, girls, I am taken' to all the ladies. But perhaps it was Charlene who insisted on him saying this! Remember he used to say "I am just around the corner'? Now he is well and truly cornered! Soon he may be round the bend!"
Datuk Robin Tan related an incident when they had planned to fly to Melbourne together. Upon reaching KLIA, I phoned him and he said 'You check in first'. Then later I phoned and he said 'I meet you at the lounge'. Then it was time to board and I was at the gate. He said 'Relax brother, trust me, I will see you inside the plane'. I met him in Melbourne 2 days later!
"Charlene, all I can say is I really hope he will be on the same plane as you on your honeymoon!"
Another amusing anecdote from Datuk Robin Tan, "Years ago when he was a student, he lent me his car in Melbourne. I was pleased and happy. Then I found out I had to clean the car first, fill the tank up with petrol, pump up the tyres and launder his dirty clothes in the trunk!"
Datuk Robin Tan even recalled the time when Datuk Douglas's height got him into trouble with the father of the groom during a wedding a few years ago. Grinned the CEO of Berjaya Corporation, "He wanted to pour liquor into the groom's mouth for 5 seconds, straight from bottle into the groom's throat as per tradition during the yamseng session. As Douglas is not the tallest man in town, he could not reach the groom's mouth. So he simply put the bottle in my hand and used my hand to pour the liquor into the groom's mouth.
"The groom's father saw my hand and came rushing over to scold me in Hokkien in front of everyone. I was so embarrassed and looked around for Douglas, waiting for him to admit it was his fault but he was nowhere in sight. Douglas had vanished the instant he sensed trouble. Later I found out he was hiding under the table!"
Datuk Douglas Cheng's own wedding was such fun it prompted Sam Chen to remark, "He should get married everyday"!
I agree.
THE END
Posted 20th May 2018 by Anonymous