by Ganesh Sahathevan
This performance was foolish at best, and in hindsight, seems to have been engineered to protect Turnbull family and friends:
Najib and Turnbull's budding bromance
If Najib had won the election , there would have been nothing to worry about.Unforttunately that did not happen (despite the ABC and DAFT's best prediction),and Malcolm Turnbull will have no choice but to hand over son Alex Turnbull's information on the 1MDB theft, as well as anything else about
other Australians involved in the scandal. Australia and Malaysia are joined by a number of intelligence sharing agreements, and
Mahathir has made it abundantly
END
Reference
See also:
Turnbull family in damage control over Malaysia allegations
By James Massola, Sarah Danckert & Colin Kruger8 March 2018 — 10:53pm
Share on Facebook
Share on Twitter
Send via Email
Normal text sizeLarger text sizeVery large text size
Jakarta: Prime Minister Malcolm Turnbull is no doubt hoping claims his son was sidelined by Goldman Sachs for blowing the whistle on controversial Malaysian sovereign wealth fund 1MDB will not distract from the upcoming summit of South East Asian leaders.
But Alex Turnbull says his role in exposing the 1MDB scandal is likely to appear in soon-to-be published book by two Wall Street Journal reporters.
Malcolm Turnbull's son Alex reportably had a role in blowing the whistle on controversial Malaysian sovereign wealth fund 1MDB.Photo: AAP
In an interview with Fairfax Media, Alex Turnbull would not comment on an article in The Australianwhich quoted him saying he was "b-tracked" by Goldman Sachs for raising concerns about 1MDB and claimed "whistleblowing is a shit business".
Alex Turnbull said he was misquoted by The Australian newspaper although his complaint is similar to comment he appears to have made on a Malaysian blog,
realpolitikasia
, earlier this month.
"I called out the insane pricing and bizarre structure at [Goldman Sachs] when the deal was done and got yelled at by compliance for casting doubt on the integrity of PFI, the group that did the deal," a user claiming to be Alex Turnbull wrote.
Advertisement
"As a result I was 'b-tracked' and resigned. This will all come out in a book in September by Tom Wright at the WSJ."
Mr Wright's book is called the Billion Dollar Whale and is co-authored with Wall Street Journaljournalist Bradley Hope. Alex Turnbull would not comment on the blog or whether he would take legal action against The Australian or the blog.
According to the blog and The Australian, Alex Turnbull raised concerns while working on a deal for Goldman Sachs that raised $US6 billion for 1MDB and made the Wall Street bank $US590 million in fees and commissions.
His comments ricocheted throughout the region on Thursday and were widely reported by other news organisations.
RELATED ARTICLE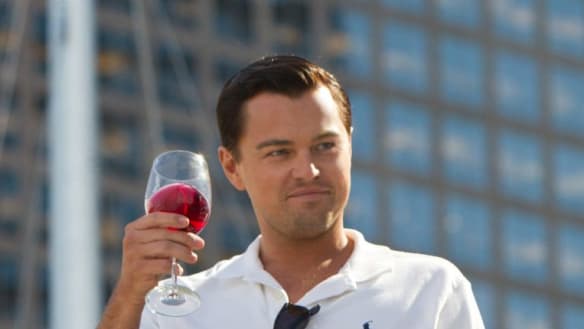 MEDIA & MARKETING
'Wolf of Wall Street' producer to pay $75m settlement over siphoning
Add to shortlist
Malaysia's Prime Minster Najib Razak helped set up the scandal-ridden 1MDB in 2009.
A lawsuit filed by the US Department of Justice
has accused him of receiving $US681 million in stolen funds from 1MDB.
Mr Najib has denied these charges and claimed the money in his personal accounts was a gift from an unnamed Saudi prince.
Prime Minister Turnbull shut down all questions about his son's comments on the 1MDB-Goldman deal when asked about it on Thursday.
"No. No. No. I'm not going to, I'm not going to comment on it," he said when questioned.
Alex Turnbull's comments about 1MDB come as his father prepares to welcome Mr Najib and other world leaders to Australia for the ASEAN-Australia summit in just over a week.
If the Malaysian prime minister were to pull out of the summit it would be a bitter blow to the Australian government.
Mr Najib has been a close ally of successive of Australian governments in the fight against extremism and in co-operating on counter-terrorism matters; he faces a tough re-election fight in a matter of months against opposition groups led by 92-year-old former prime minister Mahathir Mohamad.
Malaysian Prime Minister Najib Razak.
Philippines President Rodrigo Duterte has already pulled out of the summit, citing commitments at home that will see him attend a graduation ceremony at the Philippine Military Academy instead.
And there are fears that Cambodia's strongman leader Hun Sen may also pull out of the summit, with possible criticism of his human rights record looming in the background.
Goldman Sachs declined to comment on the allegations made by Alex Turnbull.
He ran Goldman Sachs' special situations group, which had nothing to do with the controversial Malaysian transactions in question.
The company did not refute claims that Mr Turnbull communicated with colleagues over his misgivings about the debt funding being raised for 1MDB.
Mr Najib's office did not respond to requests for comment from Fairfax Media on Thursday.