by Ganesh Sahathevan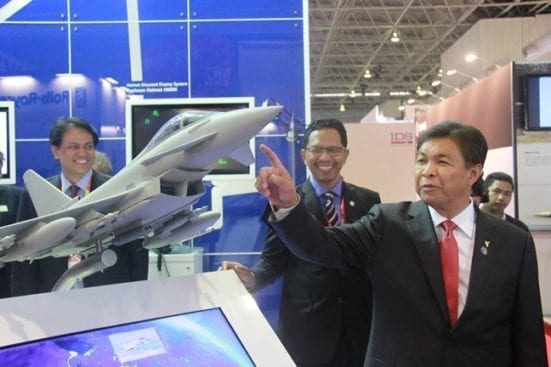 The industry new service Intelligence OnLine reported on 21 December 2016:
During a visit to London in November, Malaysia's deputy prime minister and interior minister
Ahmad Zahid
held a discreet meeting with Britain's main defence industry players.
BAE Systems
and
Airbus Group
were told that the Malaysian government would not place an order for new fighter plans until the
1Malaysia Development Berhad
(1MDB) affair had been resolved.
The meeting is reported to have been arranged by Grant Rogan of Blenheim Captial.
To be read with earlier post pasted below.
END
Tuesday, January 10, 2017
by Gaaesh Sahathevan


It appears that Malaysian PM Najib Razak's Government has decided that it will acquire British made Typhoon jets. It is understood that the deal involves the UK Government not acting on information it has on the 1MDB scandal.

As previously reported on a related blog, Najib and family, as well as other members of Malaysia's political elite, are subjects of the UK.s National Crime Agency attention with regards the 1MDB theft.
REFERENCES
Chief executive of Blenheim Capital
Chief executive of
Blenheim Capital
since its foundation in 2006, Grant Rogan has been active in the Gulf since the 1980s. His father, Richard Grant Rogan, was already a connoisseur of the region. Middle East director of
Northrop Grumman
in the 1970s, he was a regular contact of
Adnan
Khashoggi
, the famous Saudi arms dealer. His son, Grant, quickly opted to specialise in the discreet offset sector and set up his first consultancy company,
Summit Group
.
Offsets, which were originally intended to encourage the development of local industry in the Gulf, have become a determining factor in the signature of major contracts, particularly in the defence sector. From being a sideline, they have become a central feature in contract negotiations. One of the reasons for their success is that they are not totally covered by the transparency criteria governing commission payments which were brought into force by
OECD
convention in 1997.
Offsets are set up directly by the companies concerned, notably by their head office financial staff. But many companies opt to farm out the process and call in specialised operators. Over more than 20 years, Grant Rogan has become one of the leaders in this market. If he is called in, it is also because he is able to serve as an intermediary between Western defence groups and local offset bureaux. He is someone Western defence groups looking to carry out major projects in the region need to talk to but also someone who has precious contacts with the states of the region and their offset bureaux, which he advises and sometimes audits.
Rogan, with his team of ex-British defence ministry staff and defence industry executives,
acts for groups like
Dassault
,
BAE Systems
,
Airbus
and
Lockheed Martin
.
Blenheim Capital, which was the first offset company to receive certification from Britain's
Financial Services Authority
(FSA) in 2010, has offices in London, Abu Dhabi and Washington and has extended the geographical range of activity to the Far East, principally Malaysia.







DSA 2016: BAE Systems outlines Typhoon offset package for Malaysia
Jon Grevatt, Bangkok - IHS Jane's Defence Weekly
18 April 2016