by Ganesh Sahathevan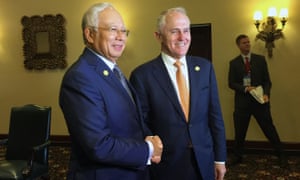 Malcolm Turnbull and the Malaysian prime minister, Najib Razak, on the sidelines of the Apec leaders' summit in Lima, Peru, where they discussed 'irregular migration'. Photograph: Lisa Martin/AAP
The Guardian reported:
Turnbull had bilateral talks with Malaysia's prime minister, Najib Razak, on Saturday morning, Peru time, on the sidelines of the
Asia Pacific
Economic Cooperation (Apec) leaders' summit.
t's understood the pair discussed "irregular migration" among other topics such as trade, regional security, the Middle East and strategic issues such as the South China Sea during the meeting. There has been media speculation a deal could be close.
Meanwhile, in Kuala Lumpur
:
Edgar Su | Reuters
Pro-democracy group Bersih stage 1MDB protest, calling for Malaysian Prime Minister Najib Abdul Razak to resign, in Kuala Lumpur, Malaysia November 19, 2016.
Thousands of anti-government protesters marched in Malaysia's capital on Saturday demanding the resignation of Prime Minister Najib Razak over his alleged involvement in a multi-billion dollar misappropriation scandal.
As previously reported Turnbull and the Australian Government have been very slow to do their part in investigating and charging those in Australia involved in that "misappropriation" scandal".
Australia's 1MDB position explained: Turnbull wants a deal with Najib
END