by Ganesh Sahathevan
Yesterday Malcolm Turnbull met with Najib Razak in Lima, Peru even as thousands demanded Najib be arrested for the theft of billions from the 1MDB sovereign fund: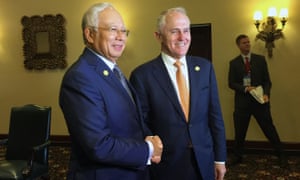 Malcolm Turnbull and the Malaysian prime minister, Najib Razak,
on the sidelines of the Apec leaders' summit in Lima, Peru.
Money stolen from 1MDB found its way into a number of Singapore banks and shell companies, some of which are t
he subject of an ongoing matter before Singapore's courts.
The Turnbull family's hedge fund, managed by eldest son Alex Turnbull is based in Singapore,
and as reported before on this blog, it is not a company that will naturally attract investors in Singapore.
It is for Malcolm Turnbull to confirm or deny that his family's Keshik Capital has never received any money sourced out of 1MDB and its related funds.
The Low family of Penang, led by Larry Low,whose son Jho Low has been named a person of interest in the Singapore matter have been shown to be Najib's partners in the 1MDB matter.
Adding to the suspicion is the fact that Jho's yacht
Equanimity was recently in Cairns.
Jho is on the run and in hiding, and is very careful in choosing his ports of call.
END