by Ganesh Sahathevan
The repercussions of
IPIC putting both 1 MDB and the Malaysian Minister Of Finance Inc (MOF) into default are already being felt, with the sell-off of 1 MDB bonds which started yesterday, Monday 18 April 2016.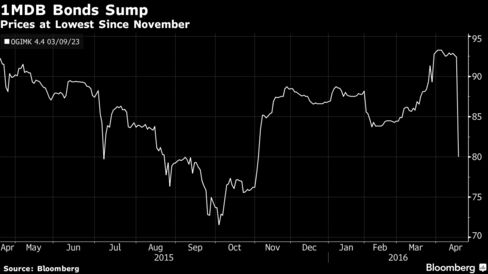 The MOF Inc's attempts to localize the matter to 1 MDB is irrelevant, given that international financial markets will now penalize Malaysia for the default, regardless of the MOF's assurances. The damage has been done.
Given the circumstances Malaysia has no choice but to have the Minister for Finance and Prime Minister, Najib Razak, replaced immediately in order to restore confidence in the country's finances and its management. It may have been possible elsewhere to simply remove the Minister For Finance but given the reality of Malaysian politics where the Prime Minister is also the Finance Minister, the post of prime minister must also be vacated.
A failure to do so will cost the country, for what has now occurred is a loss of confidence. Changing the leadership is the only way in which confidence can be restored. This comment is made without reference to the ongoing scandal that Najib finds himself in. Such is the enormity of the situation.
The MOF has attempted to limit damage to 1 MDB, but, given the now 2 year history of scandal, debt defaults, and the like at 1 MDB overseen by Najib only the most committed of his supporters are likely to believe Najib
Indeed, 1 MDB official seem to understand the gravity of the consequences , at least for themselves:
Officials at 1MDB have told the Malaysian Ministry of Finance that a default on the $3.5 billion in debt could push investors to sell off their currency and bonds, potentially tarnishing the country's image in global financial markets, according to the memo viewed by the Journal.
Cross-default clauses in other 1MDB agreements could also be triggered if the deal between IPIC and 1MDB collapses, putting the fund in default on several billion dollars more of debt, according to the memo viewed by the Journal.
There is an immdeiate need to have a new Prime Minister and Minister For Finance appointed and the only person within the Malaysia's constellation of leaders who fits the bill is the former Minister For Finance and potential prime minister, Tengku Razaleigh Hamzah. It is hard to see anyone else capable of commanding the respect and confidence of buyers and sellers in the international financial markets who are deciding the country's fate even as this commentary is written.