Beginilah Menlu Australia Gambarkan Hubungan dengan Indonesia lewat "Emoji"
Selasa, 17 Februari 2015 | 14:05 WIB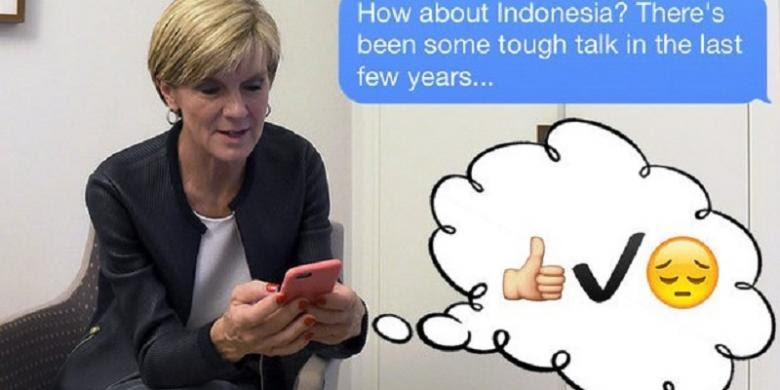 Buzzfeed
Jawaban Julie Bishop soal hubungan Australia dengan Indonesia.
KOMPAS.com — Sebuah situs membuat wawancara pertama bersama politisi dunia yang jawabannya hanya boleh menggunakan emoji. Julie Bishop berbagi :) dan :( saat ditanya beberapa hal, termasuk soal hubungannya dengan Indonesia.

BuzzFeed, situs yang sering menampilkan berita-berita hiburan dan apa yang sedang ramai dibicarakan di jejaring sosial, melakukan wawancara yang cukup unik dengan Julie Bishop, Menteri Luar Negeri Australia.

Dalam wawancara yang dimuat hari Senin (16/2/2015), Menlu Julie Bishop diminta untuk hanya menjawab pertanyaan-pertanyaan yang dilakukan dengan menggunakan emoji.

Emoji adalah istilah untuk karakter gambar yang sering digunakan dalam pesan elektronik atau juga dikenal dengan istilah emoticon.

Wawancara tersebut diklaim oleh BuzzFeed sebagai wawancara pertama dengan politisi menggunakan emoji.

Tanya jawab berisi mulai dari pendapatnya soal politik di Australia, hubungan dengan negara-negara tetangga, hingga kegemaran pribadi.

Dalam wawancara tersebut, diketahui jika Bishop adalah orang yang lebih menyukai kucing daripada anjing.

Saat diajukan pertanyaan-pertanyaan seputar hubungan diplomatis, Bishop memberikan jawaban yang beragam.
And it does seem as if emoji is Ms Bishop's preferred language :
Putin emoji-fronted? Aussie FM uses angry red face to portray Russian president
Published time: February 16, 2015 11:11
Australia's foreign minister has given what's believed to be the first-ever political interview with emoji-only answers. The image that Julie Bishop picked to depict the Russian president was not at all 'smiley'.
The interview - an exchange of text messages, with Bishop required to stick to images instead of verbal answers - was done by the online news resource, Buzzfeed.
The minister was apparently approached with an offer to try the unconventional type of interview as she is herself an avid user of emoticons on her Twitter account.

Sometimes, as in her Christmas message, she uses them and nothing else.
"The foreign minister accepted the challenge [of an emoji interview] in the spirit in which it was offered to her," her spokeswoman said, according to AFP.

Foreign policy questions can be answered pictorially, the interview shows.

Relations with the US and China were described by Julie Bishop with happy smileys and thumbs up.

Australia's top diplomat was however hardly diplomatic when asked to describe President Vladimir Putin with one emoji. The reply was a red angry face.

Bishop was kinder to her prime minister, Tony Abbott, portraying him as a running man, referencing his addiction to fitness. Communications Minister Malcolm Turnbull, according to Bishop, could best be illustrated with a picture of a mobile phone.
An expressionless smiley with a straight line for a mouth was the minister's answer to the question of whether she wanted the post of prime minister.

She was also asked some non-political questions, which revealed her guilty pleasures are high-heeled shoes and donuts, she keeps herself fit by running and her favorite emoji is a winking smiling one blowing a kiss.